President Biden on Thursday nominated the program executive officer (PEO) of Ground-Based Weapons Systems to be the next director of the Missile Defense Agency (MDA).
Collins has served in this role since August 2022, where he manages several of the most major MDA programs including the Ground-based Midcourse Defense (GMD), Terminal High Altitude Area Defense (THAAD) system, the four joint U.S.-Israeli programs, and several classified programs.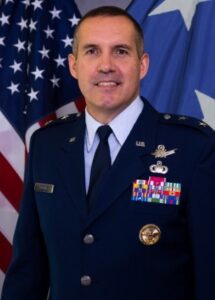 Collins' Air Force biography says these programs are collectively valued at over $3.4 billion annually and cover more than 1,200 personnel.
Immediately before his current position, Collins served as Program Executive Officer for Weapons and Director of the Armament Directorate, which encompassed $92 billion worth of programs and equipment.
In that role he was responsible for planning and executing all life cycle activities for the Air Force's non-nuclear weapons, munitions and ammunition portfolio. It included legacy weapons and ammunition, combat training systems, threat emitters for testing and training and aerial targets.
If confirmed, Collins will succeed current MDA Director Vice Adm. Jon Hill, who has led the agency since June 2019.
Before becoming director himself, Hill served as deputy director of MDA, Program Executive Officer for Integrated Warfare Systems (PEO IWS), and on the staff for the Assistant Secretary of the Navy for Research, Development and Acquisition as well as other acquisition positions.
While Air Force officials have historically more often led MDA and its predecessor officers, the Ballistic Missile Defense Organization and Strategic Defense Initiative Organization, the last 15 years saw Army and Navy officers lead the agency more often: Army Lt. Gen. Patrick O'Reilly from 2008-2012, Vice Adm. James Syring from 2012-2017, and currently Hill from 2019.
The last Air Force head was Lt. Gen. Samuel Greaves, who only led the agency for two years, as opposed to the usual four years.