The Ticonderoga-class guided-missile cruiser USS Hué City (CG-66) entered the Cruiser Modernization program at Norfolk Naval Base on Sept. 30, the Navy said Friday.
The modernization program will conduct a period of major overhaul and modernization on CG-66. This shifts administrative control of the ship from Naval Surface Forces Atlantic to Naval Sea Systems Command.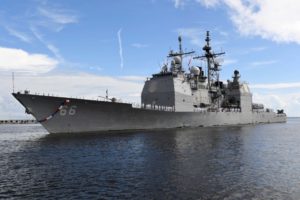 The Navy said this allows ships to "undergo extensive modernization work to extend their service life and Air Defense Commander capabilities."
The Navy said the Hué City will undergo extensive structural, mechanical, and combat systems upgrades. The modernization program generally installs the latest technological advances in combat systems and engineering to help keep the ship "relevant and viable" through its 40-year service life. CG-66 has served in the Navy for over 25 years, being commissioned in 1991 and sailing for its first deployment in 1993.
The Navy noted when a ship is inducted into the program it first undergoes two smaller maintenance availabilities to remove equipment due to be replaced and conduct structural repairs. That is followed by a longer dry-docking availability to install the replacement upgraded components.
Six of 11 cruisers have gone into this modernization program thus far and are in various stages of returning to the fleet. CG-66 will be the seventh cruiser in the program. The Navy said once it is upgraded Hué City will be ready to operate through the 2030s.
"The induction of Hué City is a major milestone for the CG Mod program. Her upcoming overhaul will not only extend the life of this critical capability, but will help the Navy on its mission to grow the fleet and expand our warfighting advantage," Capt. Kevin Byrne, program manager for surface ship modernization, said in a statement.
CG-66's commanding officer, Lt. Cmdr. Ethan Reber, underscored the modernization planning incorporated lessons learned from ships previously inducted into the process: Gettysburg (CG-64), Vicksburg (CG-69), and Anzio (CG-68).
"Our crew is ready to get started and work alongside the maintenance teams to deliver on her next milestone," Reber added.