The U.S. Air Force on Sept. 29 awarded a second round of contracts to nine organizations for the service's Skyborg program–an effort to develop a family of attritable drones with a common artificial intelligence backbone that can train alongside manned aircraft and eventually help complete tasks, fly ahead of Air Force pilots in non-permissive environments, and create headaches for U.S. adversaries.
Skyborg is one of three Air Force Vanguard programs to accelerate the fielding of new technologies.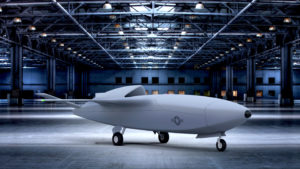 On Sept. 29, the service awarded the "shared ceiling, indefinite-delivery/indefinite-quantity contracts for all subsequent competitively selected delivery orders in support of" Skyborg to AeroVironment, Inc., BAE Systems Controls, Inc., Blue Force Technologies, Inc., Fregata Systems LLC, Lockheed Martin [LMT], Wichita State University, Autonodyne LLC, NextGen Aeronautic Inc. and Sierra Technical Services Inc.
"These contracts provide for Skyborg prototyping, experimentation and autonomy development, used to deliver missionized prototypes in support of operational experimentation," per DoD. "Work will be performed in various locations around the U.S., and is expected to be complete by July 2026. These awards were the result of a competitive acquisition and 18 offers were received."
For the Skyborg air vehicle, the Air Force on July 23 awarded contracts to four companies: Boeing [BA], Northrop Grumman [NOC], General Atomics Aeronautical Systems Inc. and Kratos Defense and Security Solutions [KTOS] for the Skyborg attritable aircraft (Defense Daily, July 23).
The 12 companies and Wichita State University will compete for up to $400 million in contracts under Skyborg.
"This second phase of awards establishes a diverse and competitive vendor pool by adding several non-traditional and traditional contractors we saw as important additions to the effort," Air Force Brig. Gen. Dale White, the service's program executive officer for fighters and advanced aircraft, said in a Sept. 29 statement.
The Air Force said that it "expects to begin the process of developing air vehicle prototype designs later this calendar year."