The Navy this week revealed more details about the ongoing Unmanned Integrated Battle Problem (UxS IBP) exercise being led by U.S. Pacific Fleet, including that it will have an offensive live-fire test.
Rear Adm. (lower half) James Aiken, commander of Carrier Strike Group Three and executive agent of the IBP, told reporters during a press call on Tuesday the exercise will include three "vignettes" over the course of the April 19-26 exercise: a missile shoot; intelligence, surveillance and reconnaissance work (ISR); and manned-unmanned teaming to project power.
The Navy began the exercise on April 19 off the coast of San Diego. It is being led by the U.S. Pacific Fleet, executed by 3rd Fleet and will occur under the command of Aiken (
Defense Daily, April 19).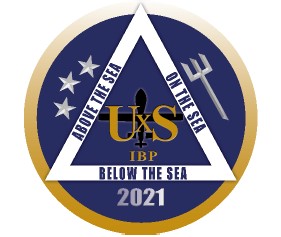 "Various manned systems, including Littoral Combat Ships, two classes of destroyers, an amphibious transport dock ship, and fixed and rotary-wing aircraft will test their enhanced capabilities alongside unmanned systems through operationally challenging scenarios and vignettes during this exercise," Aiken said,
Aiken was reluctant to go into details but said the live fire exercise will use offensive weapons and "we're going to use the unmanned surface, unmanned air, and manned air and surface to provide a targeting solution to shoot a missile at range. So it will be an offensive missile and we're going to strike a target well beyond line of sight."
Aiken did not reveal the kind of missile being used in the test.
The goal of these vignettes or evaluations is to help evaluate how the unmanned systems can operate and team with manned systems to build the tactics, techniques and procedures for the Navy's future fleet, he said.
The overall exercise is aimed at evaluating how the unmanned systems can team with manned systems to create a warfighting advantage over opponents.
When asked if these vignettes are increasing in difficulty and along a spectrum together akin to the military development mantra of 'crawl, walk, run,' he instead compared it to "almost like three acts of a play…[with the missile shooting] any time that you do something like that it is complex, but we have ordnance that we're going to use in the other vignettes as well."
"So we're looking at the opportunities not necessarily to crawl, walk, run but just sort of operationalize these ideas in three different acts, hopefully," he continued.
Aiken also said that by using various manned and unmanned systems together "we'll be able to evaluate what we can do and what we can't do in trying to create a warfighting advantage and sometimes that will be reconnaissance, sometimes that will be surveillance, sometimes that will be able to move data faster, command and control, then what we're going to do is we're going to make sure it gets into the hands of the sailors."
He underscored the exercise will look to combine various sensors to shoot at the target, rather than the usual using organic native sensors on a platform to shoot from the same platform.
"There's lots of opportunities for us to do things that we don't typically do at sea. We're using subsurface, surface, and air assets both manned and unmanned together in order to develop reconnaissance-ISR-type picture in order to target, which is something we don't not typically do…We're going to use sensors and we're going to combine sensors and fuse sensors that we typically don't do," Aiken said.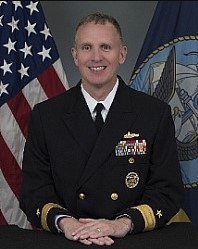 The Navy also revealed a list of specific assets participating in the exercise.
Unmanned assets include the Leidos [LDOS]-built Medium Displacement Unmanned Surface Vessels Sea Hunter and Seahawk, Northrop Grumman [NOC] MQ-8B Fire Scout Unmanned Aerial Vehicle (UAV), General Atomics MQ-9 Sea Guardian UAV, Office of Naval Research Super Swarm project, the Platform Aerospace Vanilla Ultra-Long Flight Endurance UAV, and the Ocean Aero Triton-Class Dual-Modality underwater and surface autonomous vehicle.
Aiken said they are "excited about Vanilla." While he was not part of the team that selected which platforms are participating, "the capabilities it provides…gives us a warfighting advantage."
"Vanilla has a really long on-station time and also has the capability to do ISR. Certainly a relay would be something that we would evaluate," he added.
The manned assets participating in the exercise include the Zumwalt-class USS Michael Monsoor (DDG-1001); Arleigh Burke-class destroyers USS Spruance (DDG-111), USS John Finn (DDG-113), USS Stockdale (DDG-106) and USS Fitzgerald (DDG-62); Ticonderoga-class cruiser USS Princeton (CG-59); Littoral Combat Ships USS Fort Worth (LCS-3) and USS Coronado (LCS-4); San Antonio-class amphibious transport dock USS Anchorage (LPD-23); and Los Angeles-class submarine USS Hampton (SSN-767).
Participating manned aircraft include the P-8A Poseidon, E-2C Hawkeye, EA-18G Growler, MH-60R Seahawk, and MH-60S Knighthawk.
Last month the Navy said DDG-1001 will command and control both manned and unmanned forces (Defense Daily, March 26).