The White House on Monday announced it is imposing sanctions on Turkey for its purchase of the Russian-made S-400 missile defense system.
The sanctions are the first to be placed under the new Countering America's Adversaries Through Sanctions Act
(CAATSA) and include visa restrictions, banning U.S. export licenses and blocking assets for select Turkish individuals.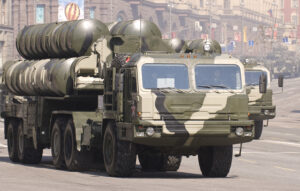 "Today's actions are not intended to undermine the military capabilities or combat readiness of Turkey or any other U.S. ally or partner, but rather to impose costs on Russia in response to its wide range of malign activities," the State Department wrote in a statement.
The sanctions, which are aimed at four top officials at Turkey's military procurement department, follows the Pentagon's decision to remove Ankara from the F-35 program over the S-400 purchase.
"The United States made clear to Turkey at the highest levels and on numerous occasions that its purchase of the S-400 system would endanger the security of U.S. military technology and personnel and provide substantial funds to Russia's defense sector, as well as Russian access to the Turkish armed forces and defense industry. Turkey nevertheless decided to move ahead with the procurement and testing of the S-400, despite the availability of alternative, NATO-interoperable systems to meet its defense requirements," the State Department wrote.
Turkey condemned the sanctions in a statement, calling on the U.S. to "rectify this grave mistake as soon as possible" and adding that "allegations that S-400 systems will jeopardize NATO systems are devoid of any technical merit."
In October, Sens. Chris Van Hollen (D-Md.) and James Lankford (R-Okla.) sent a letter to Secretary of State Mike Pompeo urging the administration to impose sanctions on Turkey over concerns the S-400 was being used to detect U.S.-made F-16 fighter aircraft (Defense Daily, Oct. 7).