The U.K. has announced plans to boost defense spending by $32 billion over the next four years, an increase of $21.9 billion more than the British government had previously pledged to invest in its military.
Prime Minister Boris Johnson detailed the increase to Parliament on Thursday, which includes spending a total of $251.8 billion over that timespan as the government focuses on reprioritizing investments in advanced technologies.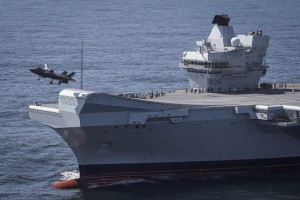 "For decades, British governments have trimmed and cheese-pared our defense budget. And if we go on like this we risk waking up to discover that our armed forces, the pride of Britain, have fallen below the minimum threshold of viability," Johnson said in his remarks to lawmakers. "I have decided that the era of cutting our defense budget must end and it ends now."
The new funding commitment represents the largest increase to the U.K.'s defense budget since the Cold War, and would place Britain as the top military spender in Europe and above all NATO countries besides the U.S., according to Johnson.
Johnson said the U.K. will aim to "remove or reduce less relevant capabilities" as it prioritizes investments in technologies from artificial intelligence and drones to new warships.
"We have a chance to break free from the vicious circle whereby we order ever decreasing numbers of ever more expensive items of military hardware, squandering billions along the way. The latest advances will multiply the fighting power of every warship, aircraft and infantry unit many times over," Johnson said.
More specifically, the spending increase will aim to ensure the U.K. is the "foremost Naval power in Europe," Johnson said.
The prime minister said plans include sticking to building eight Type 26 and five Type 31 frigates, developing next-generation warships including multi-role research vessels and Type 32 frigates, and ensuring the Royal Navy's two new aircraft carriers are operational by 2023.
The U.K.'s plan also includes investing $2 billion more in military research and development, integrating directed energy weapons on warships and combat vehicles, establishing a new AI center and creating a Space Command that will launch its first rocket from Scotland in 2022.
Johnson also echoed the U.S. military's push to embrace multi-domain operations with the Joint All Domain Command and Control concept, calling for "forging our military assets into a single network designed to overcome the enemy."
"A soldier in hostile territory will be alerted to a distant ambush by sensors or satellites or drones instantly transmitting a warning and using artificial intelligence to devise the optimal response, offering an array of options from summoning an airstrike to ordering a swarm attack by drones or paralyzing the enemy with cyber weapons," Johnson said.
Keir Starmer, leader of the opposition Labor Party, pushed back on Johnson's announcement, calling it "a spending announcement without a strategy."