Sikorsky [LMT] and Boeing's [BA] SB-1 Defiant offering for the Army's Future Long Range Assault Aircraft (FLRAA) program reached a speed of 232 knots in descent and 211 while flying level during a test flight on Monday.
The latest speed milestone was achieved using two-thirds of the aircraft's prop torque and engine power, according to Sikorsky.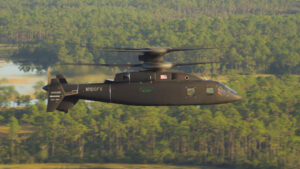 "The Sikorsky-Boeing team continues to make great progress as we advance DEFIANT's rigorous flight test program. With every flight, as we continue to increase DEFIANT's speed, angle of bank and rate of climb, we are gathering important data, expanding our speed and maneuverability envelope and validating our modeling and simulation tools," the two companies said in a statement.
In March, the Army announced it selected SB-1 Defiant and Bell's [TXT] V-280 Valor to move onto the Competitive Demo and Risk Reduction phase for FLRAA, which intends to find a new platform to replace its Black Hawk helicopters (Defense Daily, March 16).
The Army is expected to release a Request for Proposals for the FLRAA program of record before the end of the year.
Jay Macklin, Sikorsky's director of Future Vertical Lift business development, told Defense Daily Defiant now has 23 total flight hours, 138 hours of rigorous component testing on its Propulsion Systems Test Bed at the company's West Palm Beach, Florida, facility and 1,500 hours of data gathered from its Systems Integration Lab. 
Macklin also said the company is on track for the build of its Raider X prototype offering for the Army's Future Attack Reconnaissance Aircraft (FARA) competition, with the platform scheduled for first flight in fall 2022. 
"We started building physical components last year and are making great progress. Our industry-leading production capability and worldwide supply chain ensures FARA delivery on time and on cost," Macklin said.
Earlier this year, the Army selected Raider X and Bell's 360 Invictus to move forward in the FARA program, which aims to find a "knife fighter" helicopter that will fill the gap left by retiring the OH-58D Kiowa Warrior (Defense Daily, March 25).
Bell told Defense Daily on Monday the build of its 360 Invictus prototype offering is beginning this month and is expected to be completed by summer 2022 (Defense Daily, Oct. 13).