The Trump administration released a fiscal year (FY) 2022 Fiscal Planning Framework (FPF) along with the long-delayed 30-year shipbuilding plan outlining cuts to other Defense Department programs to pay for the planned larger Navy.
The DoD finally released the 30-year shipbuilding plan 10 months late this week, mapping out how the Navy could reach 355 manned ships within a decade and push past 400 manned ships by the 2050s plus several hundred unmanned vessels (Defense Daily¸ Dec. 10).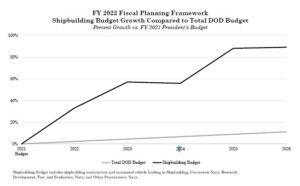 The attached FPF document, coming from the Office of Management and Budget (OMB), is labeled as an FY '22 plan but is not related to the FY '21 defense authorization bill that both Houses of Congress passed this week amid a Trump veto threat (Defense Daily, Dec. 11).
President-Elect Biden's incoming administration will be the one to submit the official FY '22 budget request and will feel pressure to focus on the pandemic and associated economic challenges and may not agree with the plan to massively increase Navy shipbuilding.
Nonetheless, under this plan, the Navy would request $147 billion over the five-year FY 2022-2026 Future Years Defense Program (FYDP) to procure 82 new ships. In contract, the FY '21 budget request outlined plans for 44 more ships over the FY '21-'25 FYDP at a cost of $1.3 billion.
According to the FPF, the administration plans to commit $167 billion over the FYDP for shipbuilding, unmanned vessels, and nuclear overhauls.
In order to pay for naval increases like moving to three Virginia-class attack submarines per year, adding a second shipyard to build up to four Constellation-class frigates per year, and supporting the industrial base to produce more ships overall, the FPF draws out reductions elsewhere in DoD.
The FPF would eliminate the DoD Overseas Contingency Operations (OCO) account starting in FY '22 and redirecting $35 billion in those funds to other Defense Department efforts. This would also include reducing the Afghanistan Security Forces Fund and eliminate the Counter-ISIS Train and Equip Funds account.
Notably, the FPF would save $2.6 billion over the FYDP by reducing the Army active duty end strength to 485,000, Army reserve to 189,500, and Army National Guard to 336,000.
"With planned drawdowns in Afghanistan and Iraq, the FPF redirects end strength resources to continue the modernization of the American military and enhance the Nation's ability to compete against near-peer adversaries," the document said.
The FPF also seeks to divest $6.6 billion in legacy systems across DoD over the FYDP and reallocate it to other system while planning additional unspecified savings from further reform and efficiency savings. DoD argued it found $7.7 billion in programmed and budgeted reform savings in FY '20, on top of $ 6 billion in reform savings from FY '19 and $4.7 billion in FY '17 and '18 savings.
The shipbuilding and FPF plans come after Chairman of the Joint Chiefs of Staff Army Gen. Mark Milley said he advocates to bias future DoD resources to sea, air and space platforms, at the expense of ground systems (Defense Daily, Dec. 4).
"This is a matter of balancing things. It's a very, very difficult exercise. We're going to have to go through it. It's going to be very hard. It's going to be ruthless. There's going to be a lot of bloodletting and a lot of stuff left on the floor. But we're going to have to do that in the coming years, no question about it," Milley said during the virtual USNI Defense Forum Washington on Dec. 4.
Milley also admitted these kinds of plans are more aspirational than definitive.
"Now a lot of people – eyebrows got raised at that. Said wait a second, 500 ships, why 500, that's an arbitrary number, you can't afford it, the country can't afford that."
He said "the critics may be right in many ways," but the final number is not the important part.
"The point is that's an aim point, that's a march objective, that's an aspiration because we think that we …are going to have to have not only highly capable but we're going to have to have a lot of ships."
Milley said 500 ships is "probably you entrance ticket to a competition" involving China in the future.