The Army has released its latest draft request for proposals for the Joint Light Tactical Vehicle (JLTV) follow-on competition, with current manufacturer Oshkosh Defense [OSK] saying it's "very confident" in its pursuit to secure the next production contract.
George Mansfield, Oshkosh Defense's vice president and general manager of joint programs, told Defense Daily the company is closely tracking the Army's movement to reduce the overall acquisition objective under the follow-on production deal, which dropped from an original count of 30,000 JLTVs down to 16,600 vehicles as of September.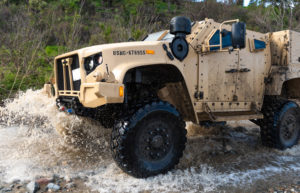 "We think that we're in a really good position. We know the truck better than anyone else. We designed it. We've been building it now, under the current contract, for six years," Mansfield said during an interview at last month's Association of the United States Army (AUSA) conference. "The trucks keep dropping down and down, so we're watching that. You know, it's not the quantities that we have under our current contract but it's still our JLTV that we want to continue to build."
The latest reduction to the number of planned JLTV builds, which Mansfield characterized as a "significant cut to the amount of trucks," was included in the prior RFP for the follow-on production contract.
A final RFP is slated to be released in late January, with proposals due in April before the Army makes a contract award in late FY '22.
The latest draft RFP, released on Oct. 29, details the Army's plans to hold a virtual industry day on Nov. 15 followed by one-on-one meetings with interested vendors on Nov. 16.
The JLTV follow-on deal is expected to ask for a dozen technology-related enhancements, according to Mansfield, to include upgrades "mainly around driver assistance, some fuel economy and corrosion improvements."
"We've invested quite a bit in the JLTV [production] line to become more efficient. So we believe that we're in the best position," Mansfield said, noting the company has built over 13,500 vehicles to date.
The JLTV re-compete effort has drawn at least one other public competitor, with GM Defense [GM] detailing plans to line up partners and ensure it has the full supply chain of parts necessary to go after the production contract (Defense Daily, May 4).
"We're still actively engaged with the United States Army to figure out how GM Defense brings the best value to the U.S. Army on the JLTV program and to ensure that the JLTV platform is the best vehicle possible for the warfighter," Steve duMont, president of GM Defense, told Defense Daily ahead of the AUSA conference.
The Army in recent years has looked at opportunities to "stretch" programs such as JLTV as a means of freeing up funds for modernization efforts, with the service's latest budget request including plans to reduce JLTV procurement from $884 million in FY '21 down to $575 million in FY '22 (Defense Daily, June 1).
The service's unfunded priorities list, however, included $120 million to cover 340 more JLTVs, stating that without additional funds plans to field three to five brigades per year over the next two decades will be "in jeopardy." Congress is currently working through completing final FY '22 defense appropriations bills (Defense Daily, June 2).