The Navy will repair one of its Freedom-class littoral combat ships—USS Fort Worth (LCS-3), which has been sidelined since a January engineering incident—after the vessel makes its way to San Diego this summer.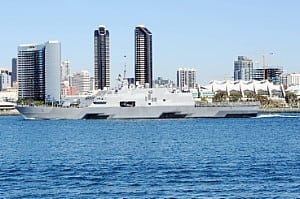 LCS-3 was conducting a rotational deployment to Singapore on Jan. 12 when it experienced an issue with its combining gears during an in-port period. The combining gears allow the ship to configure its gas turbines and diesel engines to provide propulsion, the service said in a statement. The damage is severe enough the Navy expects an "extensive repair period."
In the coming months, the service will make preparations for Fort Worth's voyage back to the United States, including conducting various inspections and lube oil system flushes, as well as configuring the engineering plant for safe operations, the Navy said.
To reduce gas consumption, the aviation detachment—which includes the MH-60R helicopter and MQ-8B Fire Scout unmanned aerial vehicle—will be removed to help lighten the ship, said Lt. Clint Ramsden, spokesman for Pacific Fleet.
LCS-3 will then use its gas turbine engines to return to its San Diego homeport.
"The Pacific Ocean transit to homeport in San Diego is expected to take about six weeks with several underway replenishments and planned fueling stops along the way," the statement read. "The decision to complete full repair of Fort Worth's combining gears in San Diego was based on several factors, including maintenance timelines, efficiency of repairs, and shipyard capabilities."
Ultimately, the service opted to do the repairs in tandem with the ship's previously scheduled selected restricted availability with docking, which reduces the cost to the Navy. It has not determined whether that availability will be longer due to combining gear repair work, the statement said.
Based on its initial fact finding, the Navy believed the incident was caused by users' failure to follow procedures during an operational test of the port and starboard main propulsion diesel engines. That's still the service's assumption, Ramsden said. An investigation is under leadership review and will likely receive final endorsement from Pacific Fleet "in coming weeks."
General Dynamics [GD] NASSCO will conduct maintenance and repairs on the ship, and the Navy will be responsible for paying the bill "because it was a user error that contributed to the mishap," Ramsden said.
Lockheed Martin [LMT] is the prime contractor for the Freedom-class LCS.