The Navy issued a sources sought notice on May 26 as part of its market research to gather industry responses for a future Multi-Engine Training System (METS) aircraft procurement.
The METS effort aims to replace the Chief of Naval Air Training's (CNATRA) fleet of T-44 Pegasus multi-engine training planes.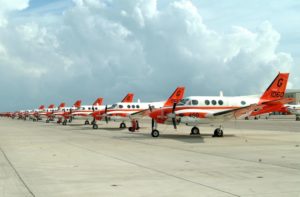 CNATRA has used the Pegasus aircraft, six cockpit training simulators, and classroom and computer-aided instruction for advanced multi-engine training at Naval Air Station Corpus Christi, Texas since 1980. Since 2007 the training also added intermediate tiltrotor programs for the Marine Corps.
The notice explained the latest post exclusively covers the METS aircraft and does not cover contractor logistics services or ground-based training. The notice is meant to spur industry response along three lines.
The notice publicized a draft performance-based specification (PBS) dated May 8 for METS aircraft that reflect the Naval Air Systems Command (NAVAIR) refinements of METS requirements.
"To this end, NAVAIR is requesting that industry provide responses identifying potential commercial aircraft solutions that wholly and partially satisfy performance criteria," the sources sought notice said.
NAVAIR also identified several areas of interest that may generate updated requirements and is seeking additional input on topics like external electrical power, communication equipment, fuel system, fatigue life, avionics systems, and sustainment.
Navy documents said it expects each aircraft to have a 20,000 flight hour life, 65,000 landings, and a maximum of 15 landings per flight hour.
The notice also said the service seeks to solicit industry interest in providing a remanufacturing solution.
"NAVAIR is interested in further understanding the capacity, feasibility, and industry desire to propose a used, reconditioned, or remanufactured commercial aircraft. Of particular interest, NAVAIR would appreciate insight into industry's ability to deliver all aircraft required by the Government as one type/model/series and similar configuration."
The Navy noted the government intends to use the METS aircraft through 2055, which should be taken into account by industry.
The notice said responses are due by July 10.