The Navy's top information warfare official said Tuesday he remains concerned about adversaries' ability to use jamming capabilities to feed misinformation at Navy assets through networks not operated directly by the service. 
Vice Adm. Jeffrey Trussler, deputy chief of Naval operations for information warfare, told attendees at the Navy League's SeaAirSpace conference the Navy must ensure its "dependency networks" have the necessary resiliency to operate in degraded environments and avoid spoofing.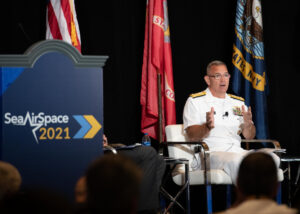 "That's dependencies, larger networks operated by the government or commercial [sector], that provide us information, like position, navigation and timing that we get from GPS or communications systems," Trussler said during a panel on Navy cyber priorities. "You can have the greatest war machine ever put to sea but somehow it gets some misinformation, not a critical attack to the machine itself, but something that supplies the machine information that can really throw it off. That's what I'm worried about."
Trussler added that cyber campaigns directed at the Navy's "very complex systems of systems" covering ships, submarines and aircraft remains a concern as well, while adding it's an area "we can get our arms around to some degree and understand it and control it."
"Persistent and malicious cyber campaigns…are happening right now and every day in the gray zone below the level of armed conflict," Trussler said. "We can analyze the heck out of multiple systems individually but [when] put together they just create vulnerabilities and attack surfaces that we sometimes don't understand."
The Navy's information warfare office is also looking at increased artificial intelligence opportunities to address data challenges that could help further combat advanced cyber campaigns, according to Trussler.  
"We deal with lots of data, especially graphic data. That just screams for artificial intelligence and machine learning. We're applying some of that…to our large volumes of data," Trussler said.
Trussler, however, added he wants to see more information from industry on how their AI and machine learning offerings can support advanced decision processing capabilities rather than serving as a "sophisticated automation" tool.
"I'm disappointed when people come talk to me about AI. And I've started asking them the same question, tell me the difference between sophisticated automation and what you're describing as artificial intelligence and machine learning and what it can do. And I'm surprised by the lack of good answers I get from that," Trussler said.