A top official at Huntington Ingalls Industries [HII] said the company is working with the Navy to finish remaining challenges to complete and turn over the delay-plagued weapons elevators for the USS Gerald R. Ford (CVN-78) aircraft carrier.
Jennifer Boykin, president of Newport News Shipbuilding (NNS), told reporters on Thursday that the 11 advanced weapons elevators (AWE) that will be on each Ford-class carriers are one of the most advanced technologies being incorporated into them.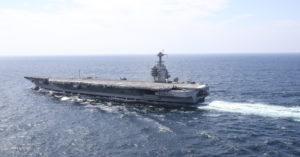 "One is turned over to the crew, the second will be here within the next couple of weeks, its going through its final certification with the Navy," Boykin said.
She added NNS expects to turn over four upper stage elevators to the Navy by the time the ship finishes in post-shakedown availability (PSA). Then it plans that four or five of the five lower stage elevators will be in some part of the certification process by the time the Ford finished its PSA or reaches the sail away date.
"But all of the shipboard installation, the testing activities, will be complete before the ship leaves. So there will be likely some certification work that's still remaining on 4 to 5 of the lower stage elevators," Boykin said. Only once the elevators have finished certification can they be turned over to the Navy.
The Navy accepted CVN-78's first AWE, AWE Upper Stage #1 on Dec. 21, the Navy disclosed last month.
These new elevators use electromagnetic linear synchronous motors, rather than cables to move ordnance. These AWEs are designed to allow the carrier to move up to 24,000 pounds of ordnance at 150 feet-per-minute, compared to 10,500 pounds at up to 100 feet-per-minute on the older Nimitz-class carriers. The Ford was designed to have three upper stage elevators to move ordnance between the main and flight decks, seven lower stage elevators to more ordnance between the main deck and lower levels, and a utility elevator to move ordnance and supplies or be used to medically evacuate injured personnel off the flight deck.
Last month Secretary of the Navy Richard Spencer said he told President Trump that if the weapons elevators are not ready by the summer when the ship finishes its PSA "you can fire me" (Defense Daily, Jan. 8).
On Friday the Chief of Naval Operations Adm. John Richardson told reporters "we're wrestling a lot of the last technical issues down, we're wrestling those to the ground, fixing those."
"I'm going to go down there [Newport News] on Tuesday just to visit the ships and see what's going on there, make sure we're staying on track," he added.
Overall, Richardson said by the time the Navy and HII are building the two carriers in the new two carrier contract, "this program will be very much under control, very predictable, and very efficient."
On Thursday, the Navy awarded HII a $15 billion contract to buy the future USS Enterprise (CVN-80) and unnamed CVN-81 at once (Defense Daily, Jan. 31).
"The fact that we can make some bets, buy two of them at the time, as you saw, we're saving $4 billion on that buy, by virtue of being able to get material and personnel and all of those things in place, it's – I think it's indicative of sort of how we can now reduce risk in that program by buying things like this, and the savings that are possible," Richardson added.
Separately, Capt. Danny Hernandez, spokesman for assistant secretary of the Navy for research, development and acquisition James Geurts, confirmed to Defense Daily on Thursday that the $4 billion in savings on the two carrier contract is expected to lower the total cost from roughly $28 billion to around $24 billion.
By controlling costs and increasing efficiencies, "these efforts result in more than 18 percent reduction in production man hours from CVN-79 (John F. Kennedy) to CVN-81, and are in addition to a 16 percent reduction on CVN-79, as compared to CVN-78 actuals," Hernandez added.
He cited cost control measures including capturing CVN-78 lessons learned, refining CVN-79 and CVN-80 ship construction processes, capitalizing on technological improvements, shipbuilder facilities improvements, using better business strategies, optimizing carrier operational systems, and using lessons learned during CVN-78's Initial Operational Test and Evaluation.