The U.S. Missile Defense Agency (MDA) and Japan are developing the capability for Japan to use the SPY-7 missile defense radar on an Aegis-capable ship after the country canceled plans to build two Aegis Ashore sites.
The Missile Defense Agency (MDA) and U.S. Navy Aegis Technical Representative (TECHREP) witnessed a successful demonstration of the first Japanese variant of the Aegis software used with a Lockheed Martin [LMT] SPY-7 radar, MDA said on Feb. 25.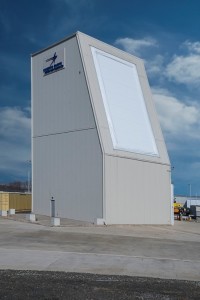 The demonstration occurred on Jan. 27 and showed the Japanese Aegis baseline J7.B working with a SPY-7 radar in Moorestown, N.J., "has the capability to perform ballistic missile defense search, track, and discrimination of a threat representative Ballistic Missile Defense (BMD) target," MDA said in a statement.
In the demonstration, the system was positioned at-sea and enabled all four SPY-7 array faces. This is the first major software delivery planned for the Japan missile defense program and will be applicable to a specific maritime platform that is under consideration by the Japanese government.
MDA underscored this is the first software demonstration focused particularly on SPY-7 radar integration with the J7.B Aegis Weapon System. This included system initialization, sensor and system configuration, BMD functions, and data recording. The next software release is planned for October 2021, and is expected to demonstrate increased capability in the overall system.
The J7.B baseline is a variant of the Japanese Aegis Baseline J7 already currently in service and fielded on the country's Maya-class destroyers.
MDA compared Baseline J7 as equivalent to the U.S. Navy's Aegis Baseline 9 with integrated air and missile defense currently on Arleigh Burke-class destroyers and Aegis Ashore sites. Baseline J7.B specifically adds the solid-state SPY-7 radar to J7 "and will utilize the latest capabilities and functionality of both Aegis Baseline 9 and Aegis Baseline 10 available in the Aegis Common Source Library," the agency said.
Japan previously selected Lockheed Martin's Long Range Discrimination Radar (LRDR) for its now-canceled two Aegis Ashore sites, but scrapped those plans in 2020 due to technical and cost concerns (Defense Daily, June 29, 2020).
The company derived its SPY-7 S-band gallium nitride-based radar from the LRDR, first procured by MDA to bolster the U.S. Ground-based Midcourse Defense (GMD) system's ability to track ballistic missile threats at Clear Air Force Station in Clear, Alaska.
Japan subsequently said it was focusing on sea-based Aegis missile defense capabilities.
In a January interview with Defense Daily, Jon Rambeau, vice president and general manager at Lockheed Martin Rotary and Mission Systems' integrated warfare systems and sensors business line, said the company was working with MDA and Japan as it works through trade analysis on seaborne platforms to replace Aegis Ashore (Defense Daily, Feb. 1).
"With this demonstration, MDA has confirmed that the integration of SPY-7 into the Japanese Aegis architecture is going very well and that all expected performance criteria are being met," MDA director Vice Adm. Jon Hill said in a statement.
"This ongoing and important integration work remains on schedule, and will continue to add increasing capability for Japan to defend itself against regional missile threats," he added.
MDA said once the Aegis J7.B weapon system is completed in its final configuration MDA and Aegis TECHREP will test it, including the SPY-7 radar, at the Aegis Production Test Center (PTC). The center has supported testing and certification of the Aegis system with sea-based radars, including all SPY-1 variants, for over four decades.
"To reduce shipbuilding risk, the Aegis PTC will be equipped with four production-version SPY-7 arrays and conduct live ballistic missile target tracking exercises prior to shipment of the equipment to the Government of Japan for integration onto their future platform," MDA said.