The Missile Defense Agency (MDA) is requesting $9.9 billion in the FY '19 budget request, which is an increase of about $2 billion over the FY '18 request.
An MDA official confirmed this request continues missile defense acceleration that began in the 2017 Above Threshold Reprogramming (ATR) and the FY '18 Missile Defeat and Defense Enhancement (MDDE) budget amendment.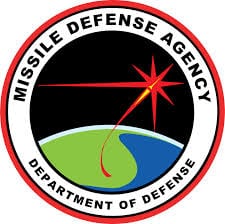 The first big chunk of the budget is $2.3 billion for the Ground-based Midcourse Defense program (GMD), which currently includes 44 Ground-Based Interceptors (GBIs). They are split between 40 at Fort Greely, Alaska, and four at Vandenberg Air Force Base (VAFB), Calif.
This funding adds a new missile field and deploys 20 more GBIs at Fort Greely. This would raise the total number of GBIs to 64 by about 2023.
In a press briefing, MDA Director of Operations Gary Pennett noted that MDA will add two more silos at Missile Field 1 at Fort Greely and procure six more configuration-2 booster vehicles. This will let the agency "ensure the number of fielded GBIs is sustained at 64, while performing GBI upgrades and maintenance."
The GMD funding also includes funds to continue developing the Redesigned Kill Vehicle and continue flight and ground testing.
Pennett noted MDA plans to conduct a salvo test with two GBIs fired against an ICBM-style target in the FY '19 timeframe.
He said the reason for the test is "for the trailing interceptor to see what kind of scene and what kind of situation that it may see because it could be very complex, and we want to make sure that the trailing interceptor, we see — want to see what's going to happen with that interceptor, and how it will react in terms of that type of a scenario, so that we can feed that information back to the warfighter."
The budget also includes $339 million for the Long Range Discrimination Radar (LRDR). The MDA projects the radar to be ready by 2020 as a mid-course sensors to "improve the BMDS target discrimination capability while supporting a more efficient use of GBIs," Pennett said.
MDA is requesting $150 million for the Sea-Based X-Band (SBX) radar tp continue extending its time at sea at the request of Pacific Command and Northern Command "to expand contingency operations for defense of the homeland." The SBX provides more precise mid-course tracking and discrimnination capability for the GMD and participates in flight tests.
The agency also wants $62 million to continue the Homeland Defense Radar-Hawaii, set to be available by 2023, and $34 million for an additional homeland defense radar in the Pacific area, available by 2024.
Pennett explained "one of the things that we need to do is maintain the custody of the threat, from — from birth to death.  And so with terrestrial-based radars, we have to put them in locations that we can maintain custody."
"So we have forward-based radars in Japan now, and then we're going to put one in Hawaii for — to help with that part of the enhancement of the system.  And so we feel that we need another one somewhere in the Pacific to do that."
He noted the additional Pacific location has not been decided yet.
Another large chunk of spending is for Aegis ballistic missile defense (BMD), at $1.8 billion.
This includes sustaining deployment of the Standard-Missile-3 (SM-3) fleet and procuring 37 SM-3 Block IB missiles to deploy at Aegis Ashore sites in Romania and Poland as well as pm Aegis BMD ships.
It also covers initiating a multi-year procurement for SM-3 Block IB, growing procured missiles to 324 by the end of 2019.
This part of the request also procures six SM-3 Block IIA missiles to make a total of 22 procured through FY '19, continue SM-3 IB modernization, SM-3 IIA software upgrades, and work to integrate the new SPY-6 Air and missile Defense Radar (AMDR) with the Aegis Weapon System (AWS).
The budget requests $1.3 billion in the Terminal High-Altitude Area Defense (THAAD) program, to both support the maintenance of current fielded batteries and training devices as well as procure 82 additional interceptors. This will bring the total THAAD interceptor count up to 481 by the end of 2019, Pennett said.
The agency is requesting $463 million to sustain 12 AN/TPY-2 missile defense radars  in Japan, Turkey, Israel, and the U.S. Central Command. The funds will also continue software development for discrimination improvements and the transition to a next-generation gallium nitride module.
The agency also requests $500 million for FY '19 cooperative Israeli missile defense programs including Iron Dome, a co-deployment of the David's Sling system, upper tier interceptors, and the Arrow weapon system.
Regarding technology investment, the agency is separately requesting $198 million for the Multi-Object Kill Vehicle, with an initial flight test planned for 2027 and $120 million for hypersonic defense, ad directed by the FY '18 National Defense Authorization Act.
Notably, the agency is still working to add a laser to a UAV as a potential boost-phase missile defense option. It requests $61 million to continue developing a low-power laser demonstrator and laser scaling efforts. $5 million of that funding is aimed at scaling up the power "which is a key step to the eventual boost-phase intercept capability," Pennett said.
The agency is also continuing funding for space-based sensors. MDA requests $54 million to fund the Space Tracking and Surveillance System (STSS) satellite operations and sustainment. The STSS is made of two satellites operating in low Earth orbit to provide risk-reduction data for a potential operational ballistic missile defense system tracking and surveillance satellite constellation.
On the Space-based Kill Assessment (SKA) experiment, the agency is asking for $16.5 million to a network of high sample rate, infrared sensors to deliver a kill assessment capability to the homeland defense missile defense system. This was close to the FY '18 request of $17 million. According to budget documents the network is set to be in orbit in FY '18, although in 2017 the SKA network was supposed to be in orbit by FY '17.  
Pennett said there was a delay "getting those satellites up, and getting that operational" and that it will take some time.
He noted it is an experiment "And so we're going to get that up and see how it works.  And then if there's residual capability, we'll see about operationalizing that capability."