Lockheed Martin [LMT] is using 3-D printing, or additive manufacturing, technology to lower the cost of manufacturing F-35 flight simulators by an estimated $11 million over the next five years.
Using new 3-D printing machines, the number of parts and components required to build full-motion F-35 simulators will be reduced from 500 down to just five, according to Amy Gowder, vice president of Training and Logistics Solutions at Lockheed Martin.
The aerospace and defense manufacturer has already introduced 3-D printed parts for F-35 simulators in the form of small mounting brackets, housing and casing. Beginning with 2020 deliveries, that will be greatly expanded as every non-electronic component on the simulators will be produced through additive manufacturing.
"The avionics touch screens are the only thing that won't be 3-D printed," Gowder said.
The F-35 full-mission simulator is part of Lockheed's F-35 pilot training program, which incorporates various procedural and interactive training. There are three different versions of the simulator, including the full-mission simulator (FMS) and deployable mission rehearsal trainer (DMRT) used on aircraft carriers. A third variant, the mission rehearsal trainer (MRT) is a smaller version of the FMS with a limited visual system.
Every simulator features the same software and code, including the latest Block 3F upgrade, that is featured on the F-35 jet. Other simulator enhancements coming in 2019 include a new distributed mission training (DMT) capability and Block 4 training system upgrades. DMT will enable F-35 pilots to virtually fly with up to 12 flight simulators networked together across different bases and training facilities in a fully integrated environment.
Additive manufacturing will only be used for the FMS variant. Lockheed is under contract to provide 15 simulators for F-35 low rate initial production lot 11.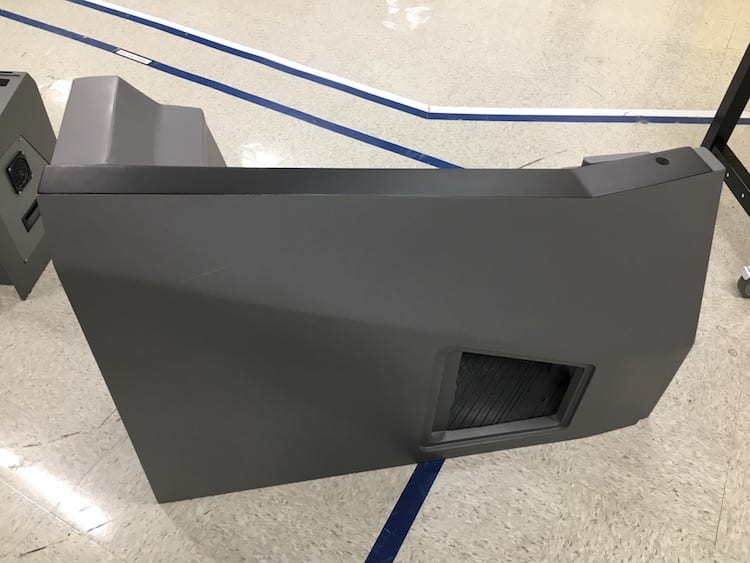 Recent improvements in 3-D printing technology have led to increased adoption throughout the aerospace and defense manufacturing industries. Boeing [BA] for example currently uses additive manufacturing technology at 20 different sites in four countries, according to research on how 3-D printing is changing manufacturing published by Gartner analyst Pete Basiliere. General Electric's [GE] Aviation business also used additive manufacturing to convert 855 conventionally manufactured parts into 12 3-D printed parts on its advanced turboprop engine design.
Digital manufacturing company Sculpteo's 2018 3-D printing global case study estimates that 64 percent of aerospace and defense companies are currently using 3-D printing in production.
"We've actually found that within the additive manufacturing world these machines are evolving very rapidly. We started with very small components, brackets, some housing and casing of the inserted components. When we start 3-D printing the entire cockpit that will cut our cycle time down significantly as well as the cost as we no longer have to go out and buy 500 components," said Gowder.
Prototypes of Lockheed's fully 3-D printed simulators are already completed.
In addition to U.S. training sites, the 3-D printed simulators will be delivered to F-35 partner nations, including Australia, Italy, Norway, Japan and the UK among others.