The Navy's sixth Littoral Combat Ship (LCS) is one step closer to delivery after wrapping up acceptance trials on June 26.
The service tested the performance of the USS Jackson (LCS-6), including ship handling and key systems like the propulsion plant, in a series of in-port and at-sea demonstrations for the Navy's Board of Inspection and Survey (INSURV).  Austal USA, which manufactures the Independence-class variant of the LCS in Mobile, Ala., will deliver LCS-6 later this summer, the service said in a news release.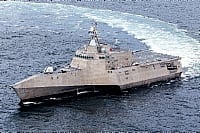 While underway, the ship completed surface and air self-defense detect-to-engage exercises and showcased its speed and maneuverability during tight turns and 40-knot sprints, the release said. The crew also launched and recovered the ship's 11-meter rigid hull inflatable boat.
"With each new LCS we run through the trials process, I'm reminded of the incredible and unique capability this ship gives our operators," said Capt. Tom Anderson, LCS program manager.
The Navy's announcement comes on the heels of another milestone for Austal—the June 29th keel laying ceremony for USS Manchester (LCS-14), the fifth Independence variant. The ceremony marks the beginning of final assembly, as 36 of 37 modules that form the hull of the ship are already in the process of being fabricated, a news release said.
After the Jackson is commissioned on Dec. 5 in Gulfport, Miss., it will move to its home port in San Diego, Calif. The Navy already has two other Independence-class LCS—the Independence and Coronado—stationed there, however neither of the 419-foot aluminum trimarans have been deployed. The USS Freedom (LCS-1) deployed to Singapore in 2013, and USS Fort Worth (LCS-3) is currently in the region, having just finished the Cooperation Afloat Readiness and Training (CARAT) exercises with the Philippines. Lockheed Martin [LMT] is the prime contractor for the Freedom-class.