The KC-46A Pegasus tanker that Boeing [BA] is developing for the U.S. Air Force has received the first of two airworthiness certifications it must get from the Federal Aviation Administration (FAA), the company announced Dec. 21.
The amended type certificate (ATC) verifies that the 767-2C, a KC-46A without the aerial refueling system installed, is safe and reliable, Boeing said. The FAA granted the certificate after Boeing conducted a series of analyses and lab, ground and flight tests of the 767-2C, a 767 jetliner with structural, wiring and plumbing modifications.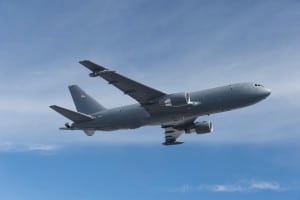 Boeing and the Air Force continue working toward getting a supplemental type certificate (STC), which would approve the military systems that make the aircraft a tanker. Boeing said that 83 percent of the STC work is done and that the effort is in flight testing.
Boeing plans to deliver the first 18 KC-46As to the Air Force in 2018. It had hoped to deliver the first tanker in December but was slowed by difficulties obtaining the FAA certifications.