Air Force Chief of Staff Gen. David Goldfein recently told President Donald Trump to boost the service's readiness so it can perform all the critical missions it is tasked.
Goldfein said Friday that he had five minutes to discuss the Air Force when the Joint Chiefs of Staff, which includes the Air Force's top officer, met briefly with Trump at the Pentagon Jan. 27 prior to James Mattis being sworn in as defense secretary. Goldfein gave Trump his eleveator pitch, explaining what the Air Force does to protect the United States.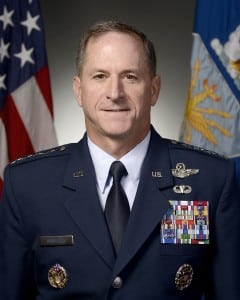 Goldfein said the Air Force provides the president with two of three legs of the nuclear triad and, on the nation's worse day, ensures the president is where he needs to be and has access to nuclear command and control. Goldfein said the Air Force also provides quality decision-making information via 12 satellite constellations and sensors in the air, land, sea, space, cyberspace and undersea. Goldfein said the joint force also achieves air and space superiority through a network of bases around the world.
The problem, he explained, is that these missions are a growth industry as every one of them is in greater and greater demand by the joint force. At the same time, Goldfein said 50,000 airmen have left the Air Force.
"We find ourselves, today, as an Air Force that is too big for the resources that we've been given and far too small for what the nation demands," Goldfein told an audience at a Peter Huessy breakfast on Capitol Hill. "In between those two bookends lies risk."
Fortunately for Goldfein, Mattis has his sights set on increasing readiness. During a trip visiting Asian allies, Mattis released a memo on Jan. 31 titled "Implementation Guidance for Budget Directives in the National Security Presidential Memorandum on Rebuilding the U.S. Armed Forces."
The memo sets down Mattis' "initial guidance" for DoD funding priorities for a fiscal year 2017 supplemental budget, the FY '18 president's budget request and the five-year defense plan that runs from 2019 to 2023.
DoD will approach the task of rebuilding the military in three phases, according to the document. Phase one will focus on improving warfighting readiness. The program will then move on to achieving "program balance by addressing pressing shortfalls." In the third and final phase, Mattis plans to "build a larger, more capable and more lethal joint force (Defense Daily, Feb. 2).