The Navy's new Assistant Secretary of the Navy for Research, Development and Acquisition (RD&A) James Geurts last week emphasized the importance of open architectures in acquisition for the Navy.
While speaking with reporters at the Surface Navy Association's (SNA) annual symposium on Jan. 11, Geurts said the Navy needs to use a portfolio approach when talking about increasing procurement agility, and not focus on small or big programs.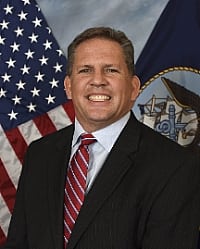 "I mean I want to build everything as fast as we can. I think there are opportunities to within these longer more deliberate programs to build agility cycles in," he said.
It may take a long time to build a large ship and the acquisition community will always try to drive that timeline down. However, on parts of a ship like a combat systems, Geurts said he is thinking about how to retain agility with ships in the water and still being developed to operate at the pace of technology, the threat, and warfighter demands.
"So that speaks to open architectures, it speaks to having a very diverse front end of bringing in non-traditional thinkers in the labs and enabling everybody in America to help give us ideas and then creating the acquisition programs that can then quickly seize those ideas and bring those for consideration," Geurts said.
He highlighted Congress has given the Navy great authority on rapid prototyping not just for small orders, "but part of the way we do business" for all programs. 
Geurts also said he told the program managers to think of themselves as conductors in a symphony, meaning they are not just doing traditional acquisition but they must also understand price challenges and rapid prototyping.
"And then their job is to play all of those skills together, as if you're conducting a symphony to deliver for the users," he said, 
Geurts said it is not a choice to do a program faster or slower, but there are many different ways and "the really good programs knit all that together." As a result, he will push the service to constantly deliver innovation within the deliberate, predictable, credible schedules of large naval programs.
Separately, Geurts declined to specify if future unmanned vessels may count in a future ship count as the service drives to a 355-ship fleet.
Although he did not have details on what systems could in the future count, he said, "I think it has huge potential for the Navy, whether that's in the air, on the surface, or under[water]."
"I think unmanned systems have the potential to rapidly increase capability we have on both our current capacity of ships, and as we build to 355 ships," Geurts added.