General Dynamics [GD] unveiled its Stryker Interim Maneuver-Short Range Air Defense (IM-SHORAD) platform last week after the Army received the first prototype at the beginning of October, with plans to deliver nine test vehicles by November 2020.
Kendall Linson, business development manager for GD Land Systems, told
Defense Daily at the Association of the United States Army conference in Washington, D.C., the Army has now approved four of the first five IM-SHORAD prototypes.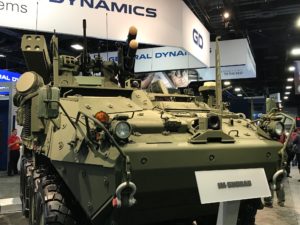 The IM-SHORAD Stryker is the Army's effort to field a new mobile platform capable of taking down unmanned aircraft systems, rotary-wing and fixed-wing threats, as well as cruise missiles, with a Moog [MOG.A] Reconfigurable Integrated-weapons Platform (RIwP) turret, Hellfire and Stinger missiles and a 30mm cannon.
"The purpose of it was to meet an operational gap in short-range air defense maneuver formations," Linson said.
GD was awarded a contract for IM-SHORAD prototypes last September to serve as the platform integrator on its Stryker vehicles, while Leonardo DRS is supplying the mission equipment package 
"There really hasn't been any major challenges. It took us 11 months to integrate this vehicle. We got the award in September of last year. In August, we had the first one finished. So as you can tell by the speed in which we were able to integrate that on the platform, there were very few challenges that we faced," Linson told Defense Daily.
The vehicle on display at the AUSA show is the second prototype that will be delivered to the Army and will go to Aberdeen Proving Ground in Maryland.
Two more IM-SHORAD prototypes will then be delivered most likely to White Sands Missile Range in New Mexico, according to Linson.
A fifth prototype is currently at GD's facility in Sterling Heights, Mich., and is in place to study logistics requirements.
Linson said the remaining four prototypes will be delivered in November 2020, with GD anticipated an Request for Proposal for follow-on production to arrive as early as next May.
The Army has indicated that it will likely require 144 IM-SHORAD platforms as it looks to scale out the capability by 2024.