The Navy awarded General Dynamics Electric Boat [GD] a $126 million contract on Aug. 14 to plan the USS Hartford's (SSN-768) engineered overhaul (EOH) availability.
The Los Angeles-class attack submarine Hartford along with the USS Boise (SSN-764) have long been cited as an example of submarines with long-delayed depot maintenance.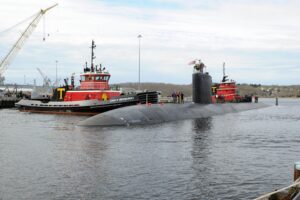 The FY '20 defense appropriations act included $625 million in extra funds for ship depot maintenance for the Hartford, Boise, and similarly delayed USS Columbus (SSN-771 with $110 million dedicated to the Hartford alone (Defense Daily, Dec. 19, 2019).
This is a cost-plus-fixed-fee contract specifically covering the labor and material efforts required to plan the SSN-768 overhaul availability.
The contract announcement noted the contracting approach includes "advance planning, engineering, design efforts, prefabrication and shipyard execution work, including growth work and new work, necessary to prepare for and accomplish the maintenance and modernization work as defined in the USS Hartford EOH availability work package."
Work will occur at Electric Boat's shipyard in Groton, Conn., and is expected to be finished by February 2022. $114 million was obligated at time of award and $103 million of it will expire at the end of this fiscal year.
The contract was not competitively procured but awarded under authority permitted under U.S. Code "to maintain a facility, producer, manufacturer or other supplier available for furnishing property or services in case of national emergency or to achieve industrial mobilization."