A Test, However, Shows White Target Missile Body Blasted Wide Open In Airborne Laser Ground Shot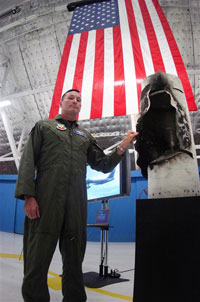 This is what the Airborne Laser can do to the body of a missile covered with white paint. The picture was taken after a ground test of the laser. A former senior Pentagon official claimed that ABL effectiveness would be seriously impaired if an enemy missile were covered with ordinary white paint.
Photo: Air Force/Missile Defense Agency
A former top Pentagon weapons tester told a congressional panel that effectiveness of the Airborne Laser (ABL) ballistic missile defense system would be seriously compromised if the enemy missile were covered with a coat of ordinary white paint, because 90 percent of the laser energy would be reflected off the white paint.
But a test of the high-powered laser on a representative missile body segment painted white ended with the laser blazing a giant hole in the side of the target. (Please see picture.)
Philip E. Coyle, III., a former assistant secretary of defense and director of operational test and evaluation from 1994 to 2001, who currently serves as a senior advisor to the Center for Defense Information think tank in Washington, made his comments before the House Oversight and Government Reform Committee national security and foreign affairs subcommittee.
He said the size/power of the ABL laser system would have to be 10 times the current size for ABL to be able to kill enemy missiles painted white, which would mean the laser would be too big to fit in the current ABL aircraft, a heavily-modified 747-400 jumbo jet made by The Boeing Co., the prime contractor. Northrop Grumman Corp. [NOC] makes the laser, while Lockheed Martin Corp. [LMT] makes the beam control/fire control system that aims the laser at the enemy missile.
"Different missile defense systems prompt the use of different sorts of decoys or countermeasures by the offense," Coyle testified. "For example, the laser being developed for missile defense, the Airborne Laser, is to be a high power laser carried in a jumbo 747 aircraft. But if the enemy paints their missiles with an ordinary white paint, a white paint that is 90 percent reflective to the laser, then 90 percent of the laser energy bounces off. To compensate for this, the Airborne Laser would need to be ten times more powerful and would need an aircraft bigger than a Boeing 747."
Coyle also challenged whether the multi-layered U.S. ballistic missile defense shield will work if an enemy targets U.S. cities, and said the shield would cost a lot of money. He particularly cited the Ground-based Midcourse Defense system, also headed by Boeing.
"While carried in the [research and development] portion of the [Department of Defense] budget, the GMD program is one of the biggest procurement programs in history," Coyle stated. "MDA is planning to buy hundreds of new interceptors between now and 2013," including those for the Aegis sea-based missile defense system and the Terminal High Altitude Area Defense system, or THAAD.
"This includes 20 more interceptors for the GMD system in Alaska and California, 111 SM-3 interceptors and 100 Terminal Sea-based interceptors for the Aegis BMD system, 96 THAAD interceptors, and about 400 new Patriot PAC-3 interceptors, and 10 new interceptors for the proposed missile defense system in Poland.
"This adds up to about 635 new interceptors proposed to be bought in the next five years. "The cost for these new interceptors does not include new Navy ships to be bought or modified, two dozen new Patriot batteries, new THAAD fire control systems and FBX radars, nor the proposed new satellite systems, nor all the ground support equipment connected to these systems."
While the Missile Defense Agency (MDA) has had repeated successful hits on target missiles by various missile defense systems, Coyle argued that those tests weren't realistic. However, MDA has noted that it has a walk-then-run approach, beginning with simple tests and working through steadily more complex and challenging target kills.
This is not the first time the Oversight and Government Reform Committee panel has held a hearing where witnesses asserted that ballistic missile defense doesn't work, or isn't worth the cost. (Please see Space & Missile Defense Report, Monday, March 10, 2008.) The panel, however, has neither authorization nor appropriations powers over MDA.
Before a House Armed Services Committee strategic forces subcommittee, which does have authorization oversight of the MDA, the ABL program last week drew strong praise.
Lt. Gen. Henry "Trey" Obering III, the MDA director, told lawmakers that "I'm very proud of what ABL has done in the last several years," which has made "tremendous" progress in meeting its goals since November 2004.