Boeing [BA] on Thursday said it has agreed to acquire Aurora Flight Sciences, a technology leader in autonomy, aerostructures and aerospace designs, in a deal the world's largest aerospace company is betting will help it design and develop the next-generation of commercial and military aircraft that are expected to increasingly feature more autonomous capabilities.
Terms of the deal were not disclosed but Boeing said it doesn't affect its financial guidance. Aurora, based in Northern Virginia, has 550 employees, not far above the small business standard of 500.
But the deal is about strategic positioning in a dynamically changing world where already a race is on to bring driverless cars to market and conventional ways of doing business and even everyday routines are being challenged. Online retailer Amazon [AMZN] is testing drones to deliver packages, and Uber, which lets anyone become a taxi driver, is investing in driverless technology and partnering with companies like Aurora on small aircraft to move people quickly and efficiently around congested urban environments.
"I think one of the reasons we're doing this is the potential for a lot of things," Greg Hyslop, Boeing's chief technology officer and the head of Boeing Engineering, Test & Technology, said on a media call to discuss the acquisition. "We can't predict today where this might go but we know we've got a really committed and innovative team here at Aurora that we're going to combine with a very committed and innovative team at Boeing and I think those creative people are going to open up new possibilities for both companies."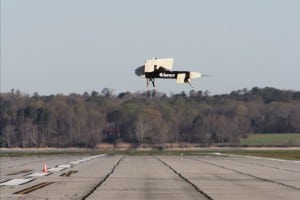 Later in the call, Hyslop said there are a lot of technical challenges ahead to get to future autonomous unmanned aircraft, including maintaining current safety levels, and the timing is unclear, so "it's hard to predict where the future is going but I think we know where the vectors' pointed, and we want to be ready as the technology matures and take full advantage of that in our products."
Aurora is led by John Langford, who founded the company in 1989. He will report to Hyslop rather than one of the company's operating units in order to preserve Aurora's culture of innovation, existing customer relationships, and its brand. Hyslop said this model will also allow Boeing to take advantage of Aurora's talent and capabilities to bring innovation to Boeing's commercial and military platforms.
"The combined strength and innovation of our teams will advance the development of autonomy for our commercial and military systems," Hyslop said in Boeing's press release announcing the deal.
In the unmanned aircraft space, Aurora has developed a number of systems, including working with the Pentagon's Defense Advanced Research Projects Agency to flight-test a sub-scale vertical take-off and landing (VTOL) experimental plane that features a tilt-wing design, distributed hybrid-electric propulsion ducted fans, and a synchronous electric-drive system, and the Orion medium-altitude long-endurance aircraft, which can stay aloft for five days.
The company has also developed an optionally piloted aircraft, is working on an electric VTOL design for short haul passenger and cargo transport that fits with the Uber Elevate model, and has partnered with NASA on a future commercial aircraft design with a unique fuselage that allows for smaller wings, smaller engines, and a dramatic reduction in fuel burn. Boeing touted Aurora's leadership in area of emerging electric aircraft propulsion.
For Boeing, which doesn't have a share on any of the cutting edge military platforms of the future, the F-35 Joint Strike Fighter and Air Force B-21 stealth bomber, the deal for Aurora gives them access to "disruptive technology," Richard Aboulafia, vice president of Analysis for the advisory firm Teal Group, told Defense Daily. Aboulafia, who consults in the area of commercial and military aircraft, said "Boeing brings on a lot of intellectual property related to the future of air transportation" with the acquisition, adding that this is an investment in "high-risk, high-payoff technologies."
The Aurora transaction, which Hyslop hopes to close this year although it is subject to regulatory review, is an investment beyond Boeing's ventures unit called HorizonX that stood up earlier this year to invest in early-stage companies that have emerging technologies that could help the company in the longer-term.
Hyslop said that as a business unit Aurora will provide Boeing with "organic" capabilities for autonomous systems and for rapid-prototyping, adding that the acquisition aligns with the HorizonX investments.
Aurora also has capabilities in aerostructures, providing various components for programs such as Northrop Grumman's [NOC] Global Hawk and Triton unmanned aircraft systems (UAS), Lockheed Martin's [LMT] upgraded Sikorsky CH-53K helicopter for the Marine Corps, and the G500 business jet for General Dynamics' [GD] Gulfstream unit.
Langford said Boeing will help his company scale to meet production demand for its aerostructures business, pointing to the CH-53K program which will eventually go from one or two helicopters per month to 24.
Aurora's financial advisor on the deal is Credit Suisse. Langford said he wasn't shopping his company around and that Boeing approached him earlier this year about the acquisition.
Boeing is already involved in the UAS arena. The company owns Insitu, a developer, manufacturer and operator of tactical UAS used by the U.S. military. Boeing plans an independent operating model for Aurora, just like with Insitu, Hyslop said.
Langford said that Aurora brings a higher level of automation for unmanned systems than the more traditional UAS made by Insitu, adding that Aurora is also developing hybrid models that combine automation, such as autonomous flight, with humans onboard carrying out other functions.
Boeing also makes the X-37B unmanned space plane for the U.S. Air Force and is developing concepts, along with other defense companies, for a potential future unmanned aerial refueling tanker aircraft.
Boeing's competitor in the commercial aircraft space, Airbus Group, has also partnered with high-technology companies for future air transportation designs. In 2016, Europe-based Airbus teamed with Silicon Valley-based Vahana on that company's concept of an electric, self-piloted VTOL for urban transportation, similar in plans to Uber's Elevate model.