The USS Fort Worth (LCS-3) is in the midst of its first deployment to Singapore, but so far the ship has needed only a fraction of the maintenance required by the first littoral combat ship, the USS Freedom (LCS-1).
During the first 90 days of its deployment, the Freedom only spent 36 days of a planned 48 underway, losing 12 days because of maintenance needs, according to Navy documents obtained by Defense Daily.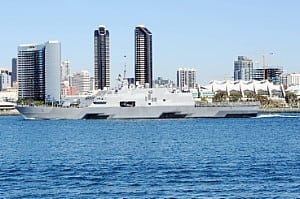 The Fort Worth, however, exceeded its 42-day goal, spending 53 days underway to help support search and rescue efforts for Air Asia flight 8501. Two availabilities were rescheduled or canceled to support the higher than expected operational tempo.
LCS-3 required far less corrective maintenance than LCS-1 did during its first three months at sea, the document said. As a result of mechanical issues, Freedom racked up 4,200 man-hours of corrective maintenance during four availabilities. Fort Worth only accumulated 396 man-hours of corrective maintenance, which was completed during a pre-planned availability.
Fort Worth also experienced fewer equipment malfunctions and deficiencies, with 39 casualties in 90 days compared to 44 on the Freedom. The older ship experienced more severe issues, including a category 4 casualty, which indicates the loss of at least one primary mission.
The difference, the document said, is the experience gained and lessons learned from Freedom's first 10-month deployment from March to December 2013.
"Technical adjustments, training improvements, and operational changes have given operational commander confidence to extend Fort Worth's area of operations and to delay maintenance when required for operational tasking," it reads.
Fort Worth deployed in November and will be in the region until March 2016. Lockheed Martin [LMT] produced both the Fort Worth and the Freedom. Austal USA builds the other LCS variant, the Independence-class, which has not yet been deployed.