Both House and Senate versions of the Fiscal Year (FY) 2023 defense authorization bill would require the Navy to maintain a certain number of EA-18G Growler aircraft after the service sought to retire over two dozen in its budget request.
According to a copy of the chairman's mark of the House Armed Services Committee (HASC) FY '23 defense authorization bill obtained by Defense Daily
, it would require the Secretary of the Navy to "maintain a total aircraft inventory of EA-18G aircraft of not less than 158 aircraft, of which not less than 126 aircraft shall be coded as primary mission aircraft inventory," starting in October 2022.
This is in reaction to the Navy's FY '23 budget request documents that sought to divest 25 Boeing [BA] EA-18G Growler electronic attack aircraft to save about $808 million over the next five years (Defense Daily, April 18).
The Navy wants to divest of all non-carrier-based Growler support of joint force requirements for tactical airborne electronic attack capability and capacity, consisting of five squadrons and about 1,020 officer and enlisted billets. Under the plan, the ground-based Growlers would be reduced by half in FY '24 and fully in FY '25. The aircraft are normally deployed in an expeditionary manner, with one currently deployed in Europe assisting with reacting to the Russian invasion of Ukraine.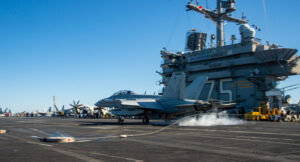 In April, Chief of Naval Operations Adm. Mike Gilday explained the request by saying while Growlers are "awesome," the ground-based aircraft were near the bottom of the list of capabilities to retain and invest in a budget-constrained environment compared to focusing funds on carrier-based aviation (Defense Daily, April 28).
"In a budget-constrained environment where I have to stratify stuff with respect to how the Navy's going to contribute…but I need it integrated into an air wing at sea. So that's what informed that decision to retire those squadrons," Gilday said.
The HASC chairman's mark would prevent the Navy Secretary from shifting Growlers to retire, prepare to retire, or placing them in active storage or inactive storage status.
The Navy can only drop below the 158 Growler limit "if the Secretary determines, on a case-by-case basis, that an aircraft is no longer mission capable and uneconomical to repair because of aircraft accidents or mishaps."
The 126 primary mission aircraft number is defined as aircraft assigned to meet the primary aircraft authorization to a unit for performance of its wartime mission; to a training unit for technical and specialized training for crew personnel or leading to aircrew qualification; to a test unit for testing of the aircraft or its components for purposes of research, development, test, and evaluation, operational test and evaluation, or to support testing programs; or to meet requirements for mission not otherwise specified above.
Similarly, the Senate Armed Services Committee's (SASC) counterpart bill includes similar provisions but would transfer the land-based Growlers squadrons to the Navy Reserve.
On Thursday, SASC finished the markup of its FY '23 bill and voted to advance it. According to the committee's summary of the bill, their version contains provisions that require EA-18Gs to be retained and would transfer Growlers in expeditionary electronic attack squadrons to the Navy Reserve Air Forces.
The bill also includes provisions that would designate one or more units from the Air National Guard or Air Force Reserve to join with the Navy Reserve to establish joint service expeditionary land-based electronic attack and report on the plan of the Secretaries of the Navy and Air Force to implement such a plan.