Bell [TXT] plans to have a fully-autonomous capable, ducted-fan driven, hybrid-electric vertical takeoff and landing (eVTOL) vehicle flying the mid-2020s. It's name is Nexus and it could be the air taxi that moves people between towering skyscrapers, over traffic-clogged streets, if urban air mobility takes off in the next 10 years.
Bell unveiled the basic fuselage design at the 2018 Consumer Electronics Show, but "kept the flying bits to ourselves," according to Scott Drennan, the company's vice president of innovation. At this year's CES in Las Vegas, Bell unveiled a full-scale model of the urban air taxi that should be flying by 2025, but likely will take to the air for demonstration and testing for that, according to company officials.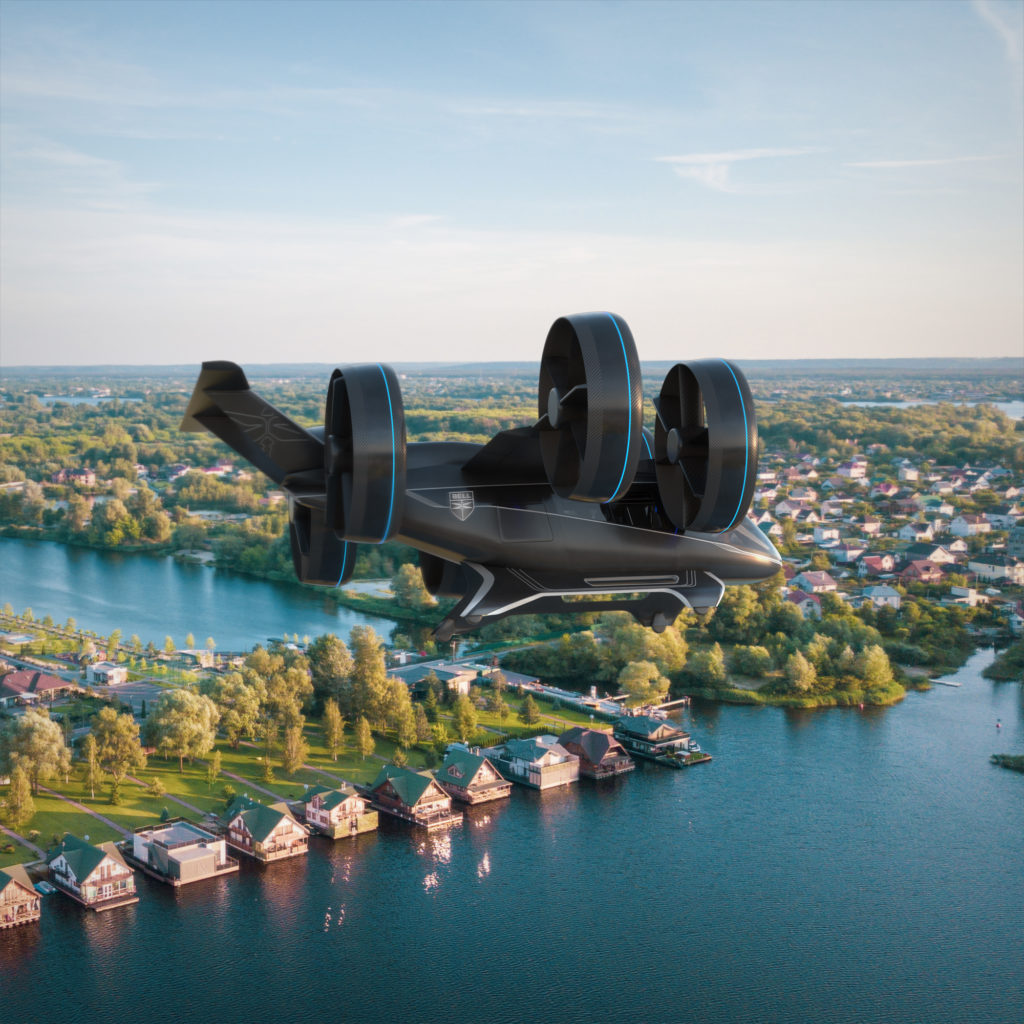 Along with a handful of aviation reporters, sister publication Rotor & Wing in December got a preview of the Nexus design during a tour of Bell's Fort Worth, Texas, headquarters.
The vehicle uses six pivoting ducted fans attached to a fuselage that can carry four passengers and a pilot. Ducts augment the power provided by the fans, reduce noise and promote "approachability" of the aircraft for passengers who might hesitate approaching an aircraft topped with a series of spinning knives, Drennan said.
"We believe that [ducts] is part of this new approachability to VTOL," he said. "We believe that persons coming up to an air vehicle like this for the first time will appreciate the covered nature, the enshrouded nature of our rotor blades. They, of course, also help us with power. The power required for a mission like this is a challenge, as it always is with VTOL, but the power available has been limited a bit because we're starting to move to more electric and hybrid-electric propulsion."
Nexus fits in a 40×40-foot box, which means it is "no toy" and hits a sweet spot of size, weight, power and carrying capacity, Drennan said. A typical 5-place helicopter will fit inside a box measuring 37 square feet. With a four-plus-one passenger configuration driving the design, the aircraft weighs in at about 6,000 pounds rough gross weight.
The model displayed at CES is the only example built so far, but the company is proceeding on a speedy development and test schedule that should see an operational air vehicle on the nearer end of the next decade.
"We believe viable commercial operations are possible in the mid-2020s," Drennan said. "The challenges facing our population centers aren't going away and won't be solved through conventional means."
Out of the gate, Nexus will run on a hybrid-electric propulsion system specifically designed for the urban air mobility mission, according to Kyle Heironimus, the innovation engineer in charge of developing the Nexus propulsion system.
A turbine engine is integrated into the aft roof of the vehicle that feeds power both to the six rotors but also to a battery. Each rotor is operated by its own direct-drive electric motor located on each pylon that can draw power from either the engine or battery, Heironimus said.
That allows the turbine to run independent of the rotors, allowing for the spinning blades to stop when the aircraft lands without shutting down the engine rpms, which means no spool-up time like a traditional turbine helicopter, he said.
Piloted at first using fly-by-wire controls, the aircraft is being built with full autonomous capability so it can transition to robotic flight "to really make the business case hum," Drennan said. A vehicle management computer (VMC), the "brain" of the aircraft will recue pilot workload by automating certain functions, including modulating power from the engine and battery, communication with ground-based infrastructure and air traffic management.
Facing an increasingly dire pilot shortage, the existing aviation industry will be hard pressed to provide enough pilots to meet the demand for urban mobility once it gets off the ground, Drennan said. Also for safety and affordability reasons, autonomy will play a key role in making the experiment become a widely accepted mode of transportation, he said.
The seed could begin to germinate within six or seven years, if all of the regulatory, economic and technological pieces fall into place. It is such a complex nut to crack that Bell is coming at urban air mobility from more than just an air vehicle. To create an entire urban mobility "ecosystem," the company and its partners have identified four avenues of approach: operational, regulatory, manufacturing and technological, Drennan said. The name "Nexus" is meant as a nod to the various forms of transportation, technologies and regulatory changes that will converge to form what Drennan sees as a continuum of mobility options from light rail to aircraft to the rental scooters found in increasing numbers clogging major cities' sidewalks.
Cities were designed to be three-dimensional spaces that incorporate aircraft, but until now have been limited to terrestrial transportation options, Drennan said.
"Since the first skyscraper was built, cities have been destined to become multi-dimensional, yet we still think, plan and build our mobility solutions in a 2D world," he said. "It limits our space, but with the convergence of key technology advancements … small urban aircraft can play a role where the current solution set is not keeping up with our needs."
"The concept of urban taxi is nothing new to us," he added. "We've been moving people over urban obstacles for a long time. What is new is the emergence of technologies that enable safe, quiet, efficient, and perhaps most importantly, affordable urban air mobility operations at scale using small, heavily automated electric and hybrid-electric vertical lift aircraft."
Bell has slowly announced its technology suppliers over the past year. The company has not yet named an airframe manufacturer, but may take on the work itself, Drennan said.
Team Nexus includes Safran, EPS, Thales, Moog [MOG.A] and Garmin [GRMN]. Bell will lead the design, development and production of the VTOL systems. Safran will provide the hybrid propulsion and drive systems, EPS the energy storage systems, Thales the Flight Control Computer (FCC) hardware and software, Moog the flight control actuation systems and Garmin will integrate the avionics and the vehicle management computer (VMC).