BAE Systems is planning to offer its BvS10 and Beowulf tracked vehicles for the Army's imminent proposal to field its first new all-terrain, cold weather support vehicle since the 1970s.
Jim Miller, the company's director of business development for combat vehicles, said a request for proposals for the Joint All Terrain All Weather Support Vehicle program to replace the Army and National Guard's Small Unit Support Vehicles is expected to arrive this fall.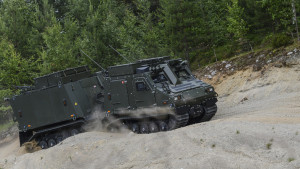 BAE's Hägglunds subsidiary built the original SUSV, the Bv206, in the 1970s, and Miller said the Army is now looking for a support vehicle with greater power generation capabilities and the ability to operate in all terrain, especially Arctic region conditions.
"It's clearly time for the Army and the National Guard to look at something new," Miller told reporters Thursday. "We've got some legacy here with this type of vehicle. But those [Bv206] are really at the end of their life expectancy. They've got parts issues, resupply issues. They're just aging vehicles, so not many of them are actually being used nowadays."
The Army released an RFI for JAASV in June, and BAE Systems responded with details on the armored BvS10 tracked vehicle and the new unarmored variant, Beowulf.
"BvS10 is kind of the son of Bv206. They're very similar in design. All terrain, air transportable, highly adaptable. And it does the things we've seen listed in the RFI. It gets you through impossible terrain. It swims. It's good in the snow. It can handle cold weather, it was designed for that up in northern Sweden," Miller said. "The good news for Beowulf, even though it's new, it shares all that maturity that was developed with BvS10. All that reliability is carried forward in the Beowulf."
The Army's RFI for JAASV stated intentions to find a vehicle to handle icy, Arctic terrain, rocky regions, marshy areas and the ability to navigate through low levels of water. The replacement support vehicle must also be able to carry a small infantry squad and be transportable on cargo aircraft.
With a growing attention to Russia's increasing activity in the Arctic region, Army officials emphasized a need for the new vehicle to operate in deep snow and temperatures as low as -50 degrees Fahrenheit.
"It's pretty important when you're out there by yourself on the side of a mountain and you're trying to get over some rocks covered in snow to have that reliability and greater power," Miller said.
The Army may also consider ordering four variants under JAASV, including general purpose, medical, cargo and command and control vehicles.
BvS10, first delivered in 2004, has four current customers, France, Netherlands, Sweden and U.K. and Austria is currently buying the vehicles.  A number of vehicles have been deployed in combat situations in Afghanistan, according to Miller.
The new unarmored Beowulf is designed for potential use in humanitarian and disaster relief situations, with potential interest from the National Guard.
BAE Systems showed BvS10 at the National Guard Association of the United States show in New Orleans last week, and brought Beowulf to the 2017 show. The company will also be showcasing BvS10 at September's Modern Day Marine event in Quantico.
The Army has not specified a timeline for the replacement program or how many vehicles may be ordered, and Miller said he anticipated potential interest from the National Guard to get new SUSVs faster than the Army.