The Air Force's B-1B bombers have an all-new Integrated Battle Station (IBS) equipped with a fully-integrated data link (FIDL), vertical situational display upgrade (VSDU), and improved central integrated test system (CITS).
The IBS modification, which started in 2012, was announced as completed in a Sept. 24 press release. The cockpit upgrade included four new displays for the pilot and copilot, six new displays for the weapons systems operators, and new control equipment for the flight crew, Dan Ruder, B-1 systems engineering manager at Boeing [BA] told sister publication Avionics International.
"The primary capabilities that Integrated Battle Station brings is downlink capability, which is line of sight Link 16 data connection and then a UHF satellite radio using J-link or joint range extension application protocol for beyond line of sight downlink capability," Ruder said.
IBS provides flight crews a significant improvement in situational awareness and allows the display of onboard aircraft sensor data to be used in new color formats that overlay on a moving map and present data to the flight crew in an intuitive manner. The primary flight displays for the pilot and co-pilot were also updated.
"All aircraft outfitted with the Integrated Battle Station modification enhancements provide the four members of the aircraft with much greater 'battlefield' awareness of surrounding threats whether those threats are air-to-air or ground-to-air, and provides a much faster capability to execute both defensive and offensive maneuvers needed in any conflict," Rodney Shepard, director of the 567th Aircraft Maintenance Squadron, said in a statement.
A central integrated test system is also included in the IBS modification, which Ruder explains as a diagnostic system that allows operators or maintainers to monitor over 9,000 parameters on the aircraft all the way from higher temperature hydraulic pressures to the status of the aircraft's communication, navigation and surveillance systems.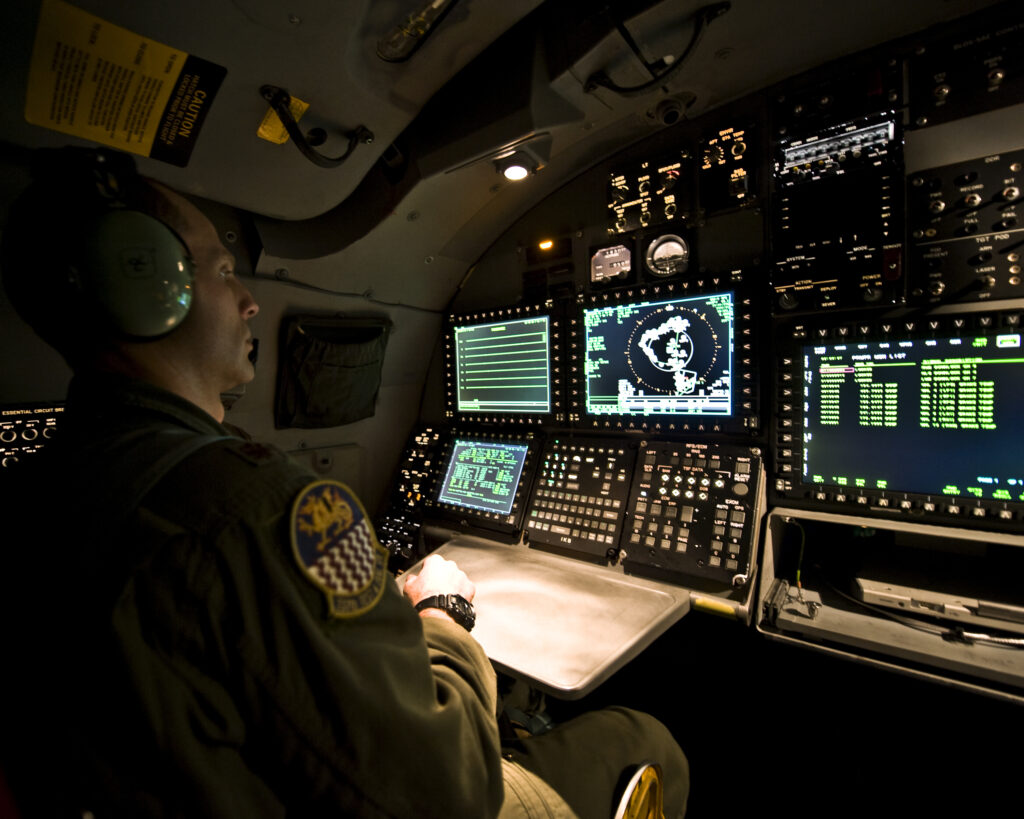 The IBS modification was installed on 60 B-1Bs and took a total of eight years and 1,0505,000 hours of planned labor, according to the Air Force. IBS also saved the Air Force a total of 987 aircraft availability days.
"Boeing provided the kits and the kits contained about 16,000 parts per kit," Scot Oathout, bombers program director at Boeing, told Avionics. "Out of those 16,000 parts, there were like 37 new or modified line replaceable units. There were over 19,000 new and modified wire segments or wire harnesses."
Originally pitched as three separate modifications, FIDL, VSDU, and CITS, the IBS modification was instead completed as a singular upgrade.
The B-1 was originally developed in the 1970s as a replacement for the B-52s, canceled in 1977, and then revived by the Reagan administration in 1981. The B-1 is a long-range, multi-role heavy bomber and it is best known for its large conventional payload of 75,000 pounds. While it only flew less than one percent of combat missions in Operation Iraqi Freedom, it delivered 43 percent of Joint Direct Attack Munitions (JDAMs) used, according to the Air Force.
The B-1 has transformed many times before, originally starting as a nuclear penetrating bomber, its nuclear mission was eliminated in 1994 and then converted to a conventional mission profile in 2007 with the Strategic Arms Reduction Treaty (START) treaty.
Ruder, who was has watched the B-1 transform while working on it for over 35 years, said the IBS modification ensures the B-1 can grow into future capabilities.
"With IBS that has even enhanced the capability of aircraft greatly with that deadly capability and the situational awareness the aircraft and really put the infrastructure into the aircraft, so that we can now do even additional missions, let's say like hypersonic weapons carriage missions or those long-range strike missions," Ruder said. "The IBS pretty much put that infrastructure in place to be able to allow us to grow that aircraft for future capability."
The IBS modification also makes further improvements to the B-1 easier giving the aircraft increased computational and processing power.
"We put additional processors into the aircraft with multiple single-board computers inside those processors," Ruder said. "We increased the computational power of the aircraft significantly with the IBS upgrade. Also, it went from what I would call a federated system to a distributed network so if you put an Ethernet network on the aircraft that makes incorporating new capabilities into the airplane much easier. We have much more processing power and of course, we upgraded to a more modern software code. We went to primarily C++."
Ruder said they are currently working on long-range strike missions capabilities and hypersonic weapon integration for the B-1 with the new IBS modifications.
"We are focused on long-range strike missions and hypersonic weapon integration, which is the right thing really the future for the platform is to be that global strike aircraft with hypersonic capability on the aircraft," Ruder said.