The U.S., U.K and Australia confirmed Tuesday they are cooperating on hypersonic and counter-hypersonic weapons, autonomous underwater vehicles, and cyber capabilities in addition to a new nuclear-powered submarine for Australia.
President Biden, U.K. Prime Minister Boris Johnson and Australian Prime Minister Scott Morrison issued a joint leaders statement Tuesday noting they assessed submarine progress under AUKUS, are "pleased" with current progress, and are committing to cooperation on several other technologies.
"We also committed today to commence new trilateral cooperation on hypersonics and counter-hypersonics, and electronic warfare capabilities, as well as to expand information sharing and to deepen cooperation on defense innovation. These initiatives will add to our existing efforts to deepen cooperation on cyber capabilities, artificial intelligence, quantum technologies, and additional undersea capabilities. As our work progresses on these and other critical defense and security capabilities, we will seek opportunities to engage allies and close partners," the leaders' statement said.
Last September, Australia chose to cancel a program to replace its current fleet of Collins-class conventionally powered diesel-electric attack submarines with 12 new similarly powered vessels designed by France's Naval Group. Instead, Australia said it was working with the U.S. and U.K. to help procure new nuclear-powered attack submarines in a group called AUKUS. This is starting with an 18-month long exploratory period to inform how it will pursue the vessels (Defense Daily, Sept. 15, 2021).
Officials from the countries had previously mentioned AUKUS expands beyond purely new submarine work, to include trilateral collaboration on artificial intelligence, quantum computing and cyber efforts as well (Defense Daily, Oct. 19, 2021).
According to a fact sheet released by the countries on Tuesday concurrently with the leaders' statement, "AUKUS partners have made strong progress in the four advanced capabilities that the President and Prime Ministers identified in September 2021, and have recently initiated work in four additional areas. As we mature trilateral lines of effort within these and other critical defense and security capabilities, we will seek to engage allies and close partners as appropriate."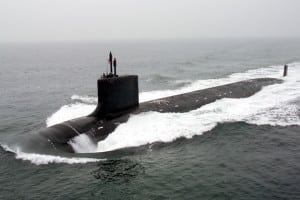 The first four cooperative subjects listed include an AUKUS Undersea Robotics Autonomous Systems (AURUS) project to collaborate on autonomous underwater vehicles with initial trials and experimentation planned for 2023; the AUKUS Quantum Arrangement (AQuA) to accelerate investments for "generation-after-next" quantum technologies for positioning, navigation and timing with trials and experimentation integration planned over the next three years; artificial intelligence and autonomy cooperation focusing on accelerating adoption and improving resilience of AI and autonomous-enabled systems; and advanced cyber capabilities including protecting critical communications and operations systems.
The remaining four areas include hypersonics technologies, electronic warfare, innovation, and information sharing.
The fact sheet notes that "the AUKUS partners will work together to accelerate development of advanced hypersonic and counter-hypersonic capabilities."
On electronic warfare cooperation, the countries plan to work together to share understanding of tools, techniques , and technology to enable forces to operate in contested and degraded electromagnetic spectrum environments.
In the fact sheet, innovation cooperation seeks to "accelerate respective defense innovation enterprises and learn from one other, including ways to more rapidly integrate commercial technologies to solve warfighting needs."
The statement said the U.S., U.K., and Australia will expand and accelerate sharing of sensitive information to boost information sharing overall, "including as a first priority enabling workstreams that underpin our work on agreed areas of advanced capabilities."
The countries also disclosed current progress on the submarine side of AUKUS. Since the September 2021 announcement, the three countries "have held multiple high-level meetings."
"We are pleased with the progress in our trilateral program for Australia to establish a conventionally armed, nuclear powered submarine capability. We are fully committed to establishing a robust approach to sharing naval propulsion technology with Australia that strengthens the global non-proliferation regime," the leaders' statement said.
The fact sheet reports national security advisers from the countries met virtually on March 10 to review AUKUS progress and provide direction for the partnership moving forward. The allies have also held multiple in-person Joint Steering Group meetings for both the submarine and non-submarine lines of effort in all three countries' capitals.
The AUKUS fact sheet underscored the Exchange of Naval Nuclear Propulsion Information Agreement (ENNPIA) entered into force on Feb. 8, 2022, allowing the partners to share naval nuclear propulsion information trilaterally.
The statement noted that also in February tri-national teams visited multiple sites in Australia " to baseline its nuclear stewardship, infrastructure, workforce, and industrial capabilities and requirements. On Feb. 28, findings were considered by the Joint Steering Group on submarines. The Joint Steering Group will use this information as it develops the optimal pathway for Australia to acquire nuclear-powered submarines."
The fact sheet reiterated last month Prime Minister Morrison announced Australia will establish a new submarine base on the country's East Coast to support basing and disposition of future nuclear-powered submarines (Defense Daily, March 8).
"Initial steps are underway to ensure Australia has a workforce with the necessary skills, training, and qualifications to build, operate, and sustain a conventionally-armed nuclear-powered submarine capability. For example, a cohort of Australian personnel have commenced higher-education and training opportunities in nuclear science and engineering," the document added.