Following this fall's Project Convergence demonstration, the Army wants to form a joint laboratory to test new technology on a monthly basis and not just once a year, Brig. Gen. Richard Coffman, director of the Next Generation Combat Vehicles (NGCV) Army Futures Command (AFC) Cross Functional Team (CFT), said at a media roundtable at Joint Base Myer-Henderson Hall on Wednesday.
"We need a joint laboratory where we set this up in the lab and we ask the Air Force to bring their systems, the Navy to bring their systems, the Marine Corps to bring their systems so that we can continue to learn not just once a year but on a monthly basis where we are and where we need to go," Coffman said.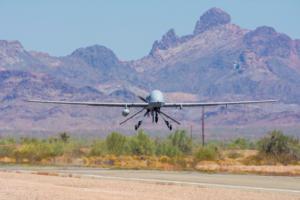 The Army's Project Convergence effort looks to showcase the potential for how the service's future weapon systems could form a new "sensor-to-shooter" network capable of pushing targeting data in seconds rather than minutes.
During the Oct. 21 roundtable, CFT directors explained lessons learned and technology capabilities they are looking to implement come 2021. While the Army accomplished a lot at this year's Project Convergence, they have big goals for next year.
Coffman said one of these goals will be hardening equipment. Staging the demonstration in Yuma allowed the Army to see how old and new equipment reacted in extreme environments.
"We learned that we really need to harden our equipment," Coffman said. "The Yuma Proving Ground is extremely harsh…A lot of the equipment we brought out had never been in that type of environment before, radios overheating, etc., etc. We've got to harden those before we get into the hands of soldiers."
A capability the Army is looking to in Project Convergence 2021 is being able to deconflict the airspace dynamically. Coffman said they are looking to move away from closing down large swaths of airspace.
Brig. Gen. Walter Rugen, director of Future Vertical Lift (FVL), also spoke at the roundtable and said the Army is focused on flooding the airspace with lots of small inexpensive drones and keeping aircraft at low altitudes in radar clutter.
"We flooded the zone with our air launch defects, which is our little drones," Rugen said. "It's really giving a lot of lemons to the enemy because these little drones are cheap, they're attritable, and they keep coming…And then what we learned is, hey, staying low matters. So, we stayed low with a number of our tactics. There's a lot of clutter down there, there's a lot of radar clutter as we call it, and some of their sophisticated systems that we are hunting have a hard time seeing us when we're low."
FVL's Future Attack Reconnaissance Aircraft (FARA) program is looking to produce an aircraft specifically designed for flying at high speed at low altitudes. Bell [TXT] and Sikorsky were selected to build competitive prototypes for this program.
Project Convergence hinges on the ability to shorten the sensor to shooter timeline. Next year they are looking to include an integrated tactical network called a mesh network, Maj. Gen. Peter Gallagher, director of Network CFT (N-CFT), said.
"It delivers a multi-spectral, mesh network, leveraging a tactical, scalable, mobile ad hoc network as part of our capability set that be used in all of our maneuver brigades today," Gallagher said.
The Army is looking to add more integration from the other service branches and is set to receive a list of capabilities from the Air Force, Marine Corps, and Navy on joint force capabilities in the coming weeks.
Coordination among branches will increase the need for open system architecture. Rugen said to keep pace with the technology they need to be more like Android [GOOGL] and less like Apple [APPL]. They demonstrated this during Project Convergence with the Gray Eagle.
"We really want to be Android-like," Rugen said. "We want to be able to be open to anyone that could build an app, not like Apple, which it's open to Apple but not anyone else. Well, that Android system that we're really driving on, it's going to allow us to upgrade at the pace of technology…but also the cost. It's much more affordable if we have an open system approach where one industry partner just doesn't own us. We put 27 new technologies on the Gray Eagle without having to go back to the original equipment manufacturer and that is exciting."